In short, this is only partly true. They only delete accounts that have no purchase history and are inactive for a long period of time.
Background
On the 20th of July, Ubisoft posted a reply to a tweet complaining that they were deleting inactive accounts. The tweet can be seen here.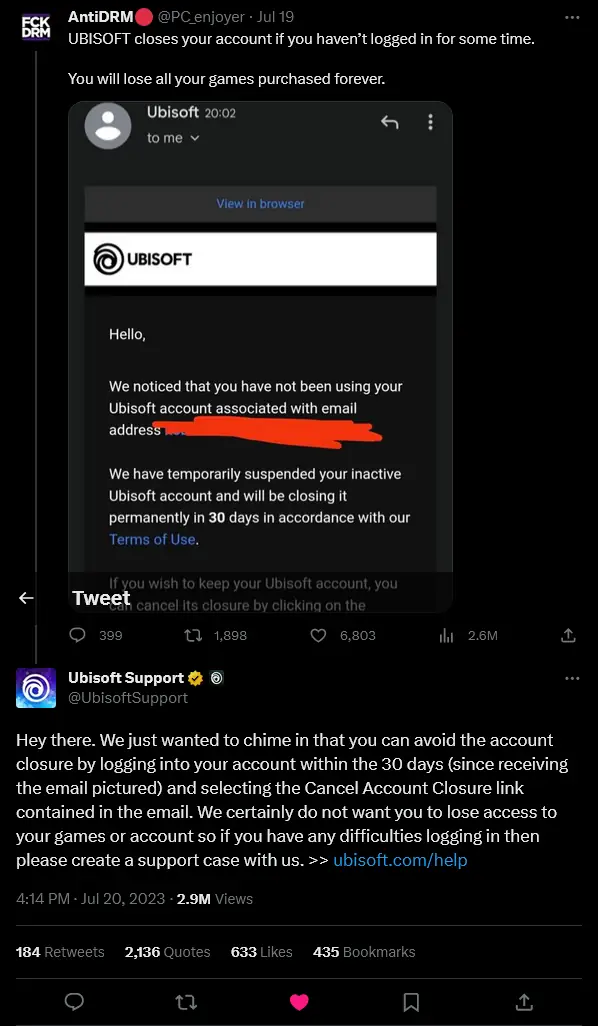 The top tweet lacks some key information. It does not say how long the account have been inactive for, so it could have been anything from six months to six YEARS. Also, the phrase "some time" could mean anything, and is vague by design. It could mean days, months, years…
Needless to say, Gamers™ got very angry like they usually do, spreading the narrative that Ubisoft is going out to take away all of your digitally purchased games. I mean, they already hate Ubisoft to death so why wouldn't they? But there's always more beyond the headlines.
The Truth
I decided to do some extra research, and found a link that took me to this Ubisoft Help article. A screenshot can be seen below.
Notice that the article reads the following:
Accounts tied to an active Ubisoft subscription, or PC games that have been purchased from the Ubisoft store, are not eligible for deletion.
That's right; Ubisoft will not delete your account if you have purchased game on the Ubisoft Store with your account or if you subscribe to Ubisoft+ etc. In their words, they will not arbitarily take your games away from you. They only delete accounts that have no purchases made with them, have no active subscriptions (Ubisoft+ etc), and have not been used for a long period of time.
Potentially they could be doing this because they do not want to store personal information for accounts whose owners clearly are not interesting in using, as doing so not only clutters their databases with useless data, but could be a GDPR nightmare as it states that data should only be stored for as long as is necessary.
While Ubisoft states in their Terms of Use that they will terminate accounts themselves that have "been inactive for more than six months", there is no definitive length of time that needs to pass before they do so. Even then, this is not new. For example, Microsoft states in their Services Agreement that they close accounts that have no sign-ins for 2 years.
Hopefully this clears things up for anyone who is confused. I also hope you realise that misinformation can easily spread on the internet, often without proper research being done. If you have any questions, feel free to leave a comment below.